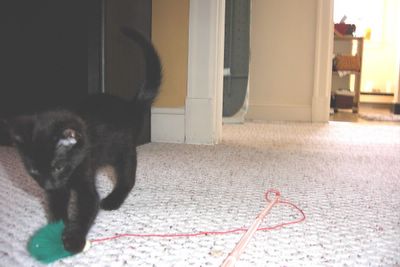 Oscar baby picture

I hate this computer with every bone in my body. I bought it when I got back from Afghanistan, not knowing I would deploy shortly thereafter, and left it here. My 6-year-old desktop works better than this overpriced boat anchor, courtesy of Dell. And in the grand tradition of their abject failure at customer service, they wouldn't take it back even thirty days after I bought it without charging me a $600 "restocking fee." Never, never, NEVER buy anything from Dell. It locks up constantly, it has dropped this post four times already, it loses DSL connectivity after only a few minutes...I mean, just a ridiculous excuse for a "premium laptop." As soon as I find the system disks, I'll try to reformat and reinstall XP, see if this piece of shit will stay in service. If that doesn't work, I'm getting rid of it one way or another, go back to my old "outdated" machine, the one that actually WORKS.
Rant complete.
Oscar, my sleek little mini-panther, in my household since March 2003, seems to have met an early demise. Both he and Esther are indoor/outdoor cats, and were both here when I rolled into the driveway last Monday. They instantly recognized me and spent the better part of the night curled up next to my head. Then Oscar vanished. *Poof*
I went looking for him...he's never been away this long, not even while I was gone. And on the other side of the street between my house and the park where he likes to hang out, I think I found his remains. I wasn't about to investigate fully, but it did look like him. Poor little guy. He was an awesome cat--he had this great way of hopping into anyone's lap and just settling right down, paws hanging over knees.
Rest in peace, little buddy. You are already missed.